The Artwork by the previous tenants. They had also made a large river rock and antler thing down by the river. That's where I got the antler mentioned later.


I woke up the first time with sun streaming into the tent, so I grabbed my handy dandy hat and pulled it low over my eyes and went back to sleep.
Then I woke up later and woke Shawn up so we could have breakfast. We had oatmeal. And hot tea. Shawn went off to the bathroom and I was accosted by a yellow bellied marmot. Only at the time I didnt' know what it was, so I thought it was some crazy sort of land beaver (it looks like a beaver, but with a squirrel tail instead of a beaver tail).
Our shoes and socks were still wet from the hike in the day before so we set everything out in the sun, went and got some water (and treated it with the Miox) , grabbed our sun hats and cameras, donned our watershoes and went for a couple hour hike toward the boundary of Yellowstone Park.
We stopped every once in a while to look across the river, and we did see a deer and an elk, but never got any pictures of them. I made Shawn walk in front with the bear spray, and then reprimanded him every time he didn't call out around blind corners. Dude, I did not want to be lunch for some bear.
We headed back toward camp around 1 pm and then lazed about in the sun, soaking up the rays, because it was finally nice. We went and got more water to treat (and I saw some snakes, and didn't totally run the other way screaming).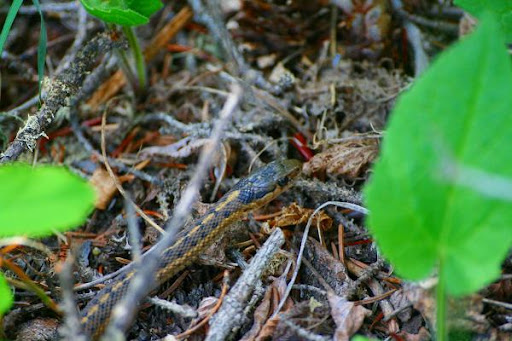 Around 4, Shawn suggested that we should start looking for dry wood to make a camp fire. HAHA, dry wood, like we were going to find that. We each brought some pieces back and Shawn started building a fire...or attempting to. After an hour of trying (at least it seemed like an hour), the fire finally caught and then we had to run around looking for larger pieces of wood to burn. We sat by the fire and ate dinner (vegetarian backpackers' lasagna), the dinner wasn't very good because I didn't stir it well enough when Shawn poured the hot water in, so all the seasonings were at the bottom of the bag and some of the noodles were crunchy.
After dinner, we lazed about until the fire went out. I finally changed my underwear (yes, i had been wearing the exact same outfit since Sunday morning, is that strange to you? Just so you know now, I ended up wearing the same shirt and pants for the entire trip, and I never washed them the entire time...yeah, we were in dire need of a shower when we came back), and we went to bed. After I got in the sleeping bag, I bothered to look at my watch (it was still somewhat light out). It was only 8:45. And the sun doesn't set up there until about 9:15. That's right, we were in bed before the sun set. I told Shawn we were pulling a "Beachy", as one of my coworkers comes in bragging every time he goes to bed before sunset, or every time he eats dinner before 5pm. It's like he's a 70-year-old man in a 30-year-old's body.
Yeah, relatively boring, but considering how sore we were from hiking in the day before, it was a welcome respite. I never took a picture of it, but the 'branch' I used to help push the bag full of food and other smelly stuff into the air was actually a 4' elk antler. Yeah, it was awesome.